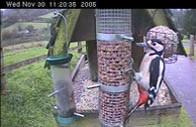 BIRDTABLE CAM

Operational during daylight hours
Peanuts (centre)
Niger seed for finches (left)
Fat ball (right)
Mixed seed on table
Webcams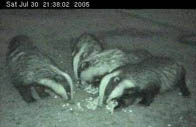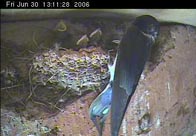 BIRD NEST CAM

Nesting season only
Kestrelcam - daylight hours
Owlcam - 24 hours
Swallow cam - daylight hours
(out of season these links will be to archive pages)
Interested in how our cameras are set up? Click
here...
Nothing interesting on the bird table at the moment ? - See highlights from the last 4 years.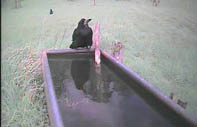 This is our brand new camera watching a drinking trough. It is a day / night camera.

Watch this space!!
Past higlights, available all day.
See some our best pictures from previous breeding seasons.
Rather than bring you past pictures from the 'Secret Valley' camera here are some photographic images from around Church Farm.
The 'Making' of Wildlink
We are often asked about how we set up Wildlink so below are a few notes on the story so far....
Installation – took many months & involved digging some seriously long trenches to bury our cables! Currently we have over 2 kilometres of cable (much of it high quality video cable) running from the various cameras back to a central point where we use a video server to convert the video signals from the cameras to digital signals to be sent to the internet.

The cameras are all high resolution video cameras of various makes, rather than the 'webcams' found on home PCs. The camera which watches the badgers (and foxes) each evening is able to work in daylight & then switch itself to night mode as the light levels fall, the same camera was used in the kestrel's nest during the last breeding season which meant that we were able to show colour pictures when light levels were sufficient & still show black & white images when the light fails. Other cameras use infra red lighting.
Note: David and Andrew's BBC background certainly helps when it comes to the technicalities of making all this work. The complexity of keeping such an operation running is not for the faint hearted!