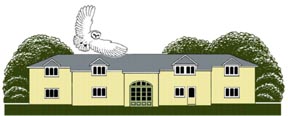 Wildlink News
from Church Farm
Wildlife Photography and Movie Courses
click here for details
New talks available by Andrew Cooper
'WILD DAYS † MEDIEVAL KNIGHTS'
(the amazing nature and history of a secret valley)
'DARTMOOR - A CELEBRATION OF PEOPLE, PLACES AND WILDLIFE'
(the making of the new book in collaboration with Dartmoor National Park)
BBC NATURAL HISTORY - MY WILD LIFE
click here for more information
Virtual tour of the farm with stunning video clips of wildlife
Part funded by the Countryside Stewardship Scheme
click here for a wild virtual tour of Church Farm
BBC 'One Show' on location at Church Farm.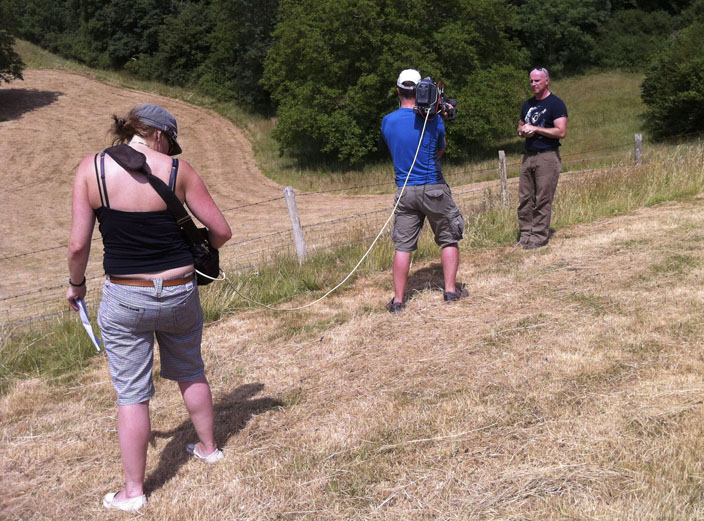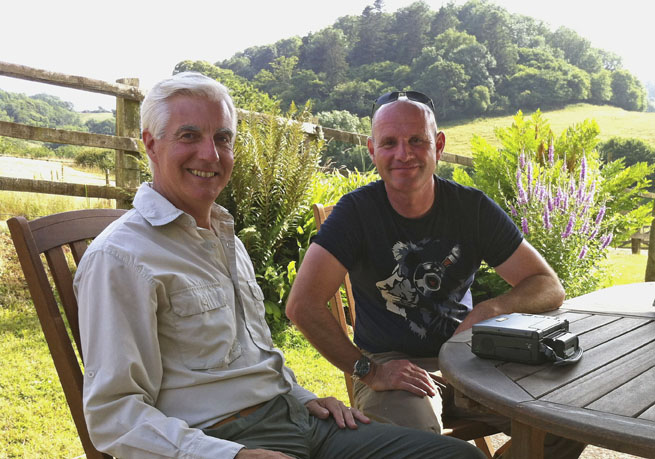 BBC 'One Show' crew at Church Farm. Andrew Cooper and Mike Dilger, BBC 'One Show'.
Seasonal news
Its spring! For me early morning is the best. A magical moment when sunlight shafts through the trees on the hill behind our farmhouse. I never know what we are going to see when opening the curtains. Sometimes a fox trotting past with a purposeful look in its eye. Or perhaps a wary roe deer on the lawn. Not surprising really as our 'garden' is more an extension of the surrounding meadows. Recently we have seen a female deer nervously checking her surroundings, while her gangly legged, half grown twins chase each other around with the carefree exuberance of youth.
Rabbits are everywhere this year. They even decide what we grow in the garden - anything they cannot eat!
Looking out of a first floor window into our courtyard at first light, I was surprised by a nose diving wood pigeon. Hot on its tail was a sparrowhawk. As they flashed out of sight I dashed to get my camera. Carefully looking out of another window I could see the brown back of a large female hawk on the ground, head down, wings spread, mantling her breakfast.
Inevitably if you attract wildlife to the garden with food, then predators come too. Although having a bush close to the birdtable makes life a little safer for the smaller birds queuing to get a meal. So imagine my surprise one evening seeing a barn owl land on the fence near our feeder. It had learnt that spilt bird food sometimes attracts wood mice and voles. Clever owl!
Past highlights.....
Most years here end with a real treat. Usually a hobby chasing bats in August and the following month an osprey flying over the house with its supper. After such a birding bonanza a couple of years ago, I could never have guessed the delights the following springs would bring. In late April an RSPB group visit to the farm was just getting ready to start our walk when a member of the party suddenly pointed skyward. A large bird of prey leisurely flew over the farmhouse. But this was no common buzzard, it was a magnificent Red Kite. Even more remarkable, it was the first record of a red kite on our farm.
A few weeks later when I was beginning to think that nothing would ever surprise me again. I was wrong!
In the fading light of day our nesting kestrels seemed unduly agitated. Stepping outside I could hear what I thought was a peregrine calling close by. But to my utter amazement a massive white falcon took off from a grassy bank near the kestrel's barn. Its pure white underparts and dark grey speckled back gave it the look of a Greenland Gyr Falcon but it also had black 'moustache' streaks, more like a saker or peregrine falcon. Perhaps some falconer had lost a very valuable bird. I could only assume that it saw our wild kestrels sitting on the barn and thought - 'this must be a faconery centre, I wonder what's for tea?
BBC Autumnwatch had a very successful broadcast from Church Farm - the badgers never doing what we expected, usually delivering much more. In addition to the live broadcasts on BBC2 we also broadcast live on red button (sort of radio with live pictures). We reached an audience of over 3 million on BBC2 and over one million on red button!
Badger latest: Our badgers are very active in spring. After the birth of their young, the big boars mate with any of the sows they can find and although fights are rare we do occasionally here noisy quarrels. The arrival of warmer weather should mean a reduction in the amount of bedding they take underground and that means a better view for us. Badgers do not hibernate but do sleep a lot during winter, especially when temperatures drop below freezing. Occasionally the underground cameras are obscured by bedding as the badgers rearrange their bedrooms but eventually they will clear it away. We usually catch our first glimpse of cubs from April onwards so we must wait for our first sightings of them, both inside their sett and later when they follow their parents to their nightly peanut supper outside our sitting room.
Wildlife filming, photography and lecturing keeps me busy year round.
While Spring and Summer are definitely the best and most pleasant time to enjoy the great outdoors,
Autumn and Winter often produce some of the best lighting for photography.
Read the story of the restoration of Church Farm's medieval mill pond....

Click here to see the new wildlife photography courses and wildlife television training courses
Click here to find out more about Andrew Cooper's illustrated talks